In a region deeply divided between Protestant unionists who support remaining in Great Britain and the Catholic nationalists who aim to unify with the Republic of Ireland, the Irish language stands either as a symbol of backwardness or a spoken form of national pride.
Linda Ervine is doing the previously unimaginable task of opening up an Irish language school, Turas, in the center of East Belfast, Northern Ireland. It stands just across the street from murals celebrating troops serving in the British Army and the building of a Titanic in the heart of staunchly Protestant and Unionist East Belfast
Ervine said her aim is to connect the community back to its historic roots, which includes many Protestants who spoke Irish.
"It's humanizing [Irish], and just raising awareness that the language is there… within East Belfast and there are Protestant people learning it who love the language, and there you go," Ervine said.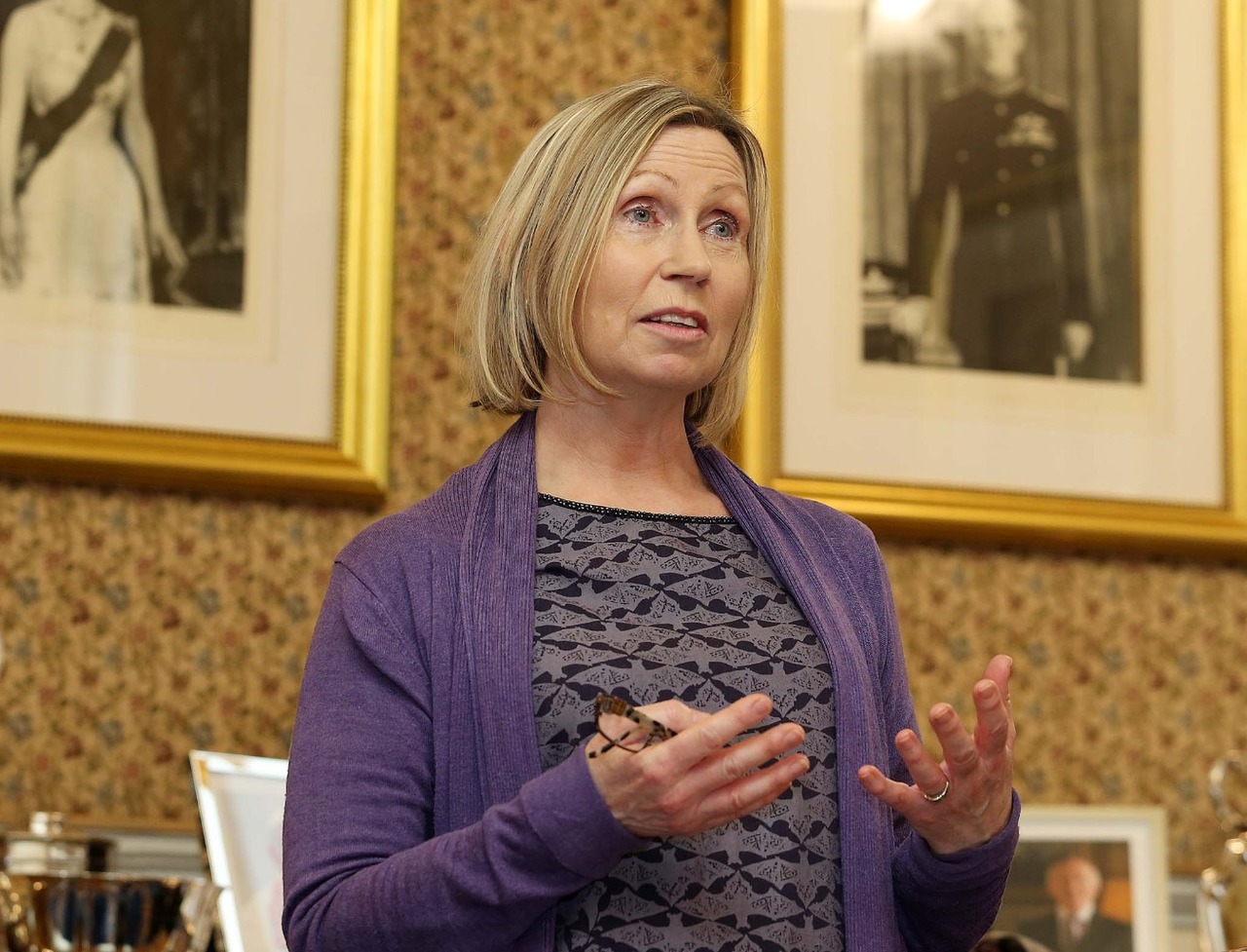 —
Historically, Irish has been a shared language and was not something that was owned by just a particular religion or political identity, according to the President of the Gaelic League and Professor of Irish at Ulster University Niall Comer.
However, as British officials took steps to reduce its use in the legal system, the language became polarized as it started to become more associated with anti-British sentiments.
For more than a century the Irish Language has been heavily associated with Catholic nationalists and has been used as a symbol of Irish pride. So, when Northern Ireland became its own entity under the United Kingdom in 1922, the dominant political party, the unionists, did everything in their power to further cut ties to the Irish language. This included removing Irish from the educational system, according to Comer.
The language remained alive, however, through small pockets of native Irish speakers throughout Northern Ireland. When the Good Friday Agreement was signed in 1998, ending a 30-year conflict known as the Troubles, the Irish language started to gain momentum within the Catholic community, Comer said.
Ten years ago, Linda Ervine tried out a six-week "taster" of the Irish language with a few friends.
Growing up in East Belfast, a heavily Protestant and working-class part of the city, she was never exposed to the language. Now, she is the founder of the Irish-medium school, Turas.
Rachel Carson, a Turas student, credits the program for revealing a new-found passion that she intends to pursue throughout her life. The language represents to her a new way of thinking and a connection to the past.
"In English you say 'I am happy' and in Irish you say 'happiness is on me'. It's almost like a different way of seeing the world, a different mindset. I think it's quite lovely," Carson said. "It hints at the history of my country and my ancestors… I suppose it's a connection."
It is a connection she almost never found.
She had reservations about learning the language due to her Protestant background and lack of exposure to the subject. She started to pursue the Irish language after doing family history research and discovering that her great grandparents were Irish speakers. This, she said, paved the way for her future of learning Irish.
"I wouldn't have expected it from a Protestant background," Carson said "So that was maybe almost like permission to start learning it, like it is part of my history too."
One student expressed a passing interest in classes, and is now attending Queens University and is obtaining a degree in Irish. Another student saw Irish as the language of the enemy, and is now one of Turas's best speakers.
"When I look at my learners, and I hear their stories, they all have individual stories and reasons [for learning it]," Ervine said. "And it challenges a lot of the stereotypical ideas that a lot of people think; you're learning it for political reasons or you're learning it to annoy somebody else."
The school is also seen as a chance to unite the two political parties, according to Andrew Irvine, the Chief Executive Officer of Turas's mother organization, the East Belfast Mission.
"[It is] a vehicle that would bring together nationalists and unionists or loyalists and we felt that these classes might be an opportunity to bring two sides together," Irvine said.
The East Belfast Mission, according to Irvine, is not politically affiliated, and instead classifies itself as a builder of peace and reconciliation within Northern Ireland. Thus, Turas was a good fit to their organizational mission.
"When Linda came to us with this idea, it seemed to fit into our DNA," Irvine said. "We are keen to educate our own community because a lot of their political mindset and their mistrust comes from a warped understanding of their own history."
However, the school had a difficult start. When it first opened, Ms. Ervine received multiple threats of organized protest.
"Especially in the early days you would walk into a room and it was like a bad smell came in," Ervine said. "People stopped talking, and it was difficult. It was very difficult."
Several friends of Ervine cut all connections with her after the opening of Turas, and several other family members no longer speak to her.
There were supporters as well. People belonging to the Protestant faith started to show interest in learning Irish now that they could, and Ervine cultivated a new community of friends and supporters.
"I love the language. And I've made so many friends. The people that come are good people," Ervine said. "'Turas' means journey, and I've started out on this journey on my own and now there's hundreds of us, which is wonderful."
Carson, also said she received criticism for her interest in the subject. Despite her relatively liberal upbringing, several family members questioned her reasons for learning the language. She simply explained it again and again and continues to carry on with her studies.
"It is a really gorgeous language, a really difficult language. It fries your head, but it's really beautiful," Carson said.
Turas is growing as well.
Despite the global pandemic and move to online learning, the school's enrollment increased from 300 students to 500 since the transition to online classes, according to Irvine. This, Irvine suspects, is because the classes are more accessible and the students' enrollment can be more discreet.
Linda Ervine also is optimistic of Turas's growth. It has grown beyond her, Ervine said, and that it will continue to do so because many people are part of this community that used to be made up of her and a few committed people.
"If I retire tomorrow Turas will still go on because it has become its own separate entity," Ervine said. "It's loved by other people and other people are taking it in different directions I wouldn't have even had the imagination to think of."
However, despite Turas's modest success, the language remains polarized. According to Queens University Irish Professor Micheàl Ó Mainnín, hope of change rests with the younger generation.
He said he has found that the generation since the Good Friday agreement is less likely to cling to the older and conflict-immersed way of thinking that is seen among the older and war-seasoned population.
Comer echoes Mainnín's thoughts. As a child he was aware of the Irish language, but the Catholic town next to his had members that did not even know the language existed. Now, places like Turas have an established foundation in a Protestant area. Comer said that even more will be possible with the rise of the younger generations.
"I could not have even had a conversation with my grandparents because they were just too much like, 'no, this the way, this is what happened,'" Comer said. "But now, with access to far more sources of history… the younger generation is willing to see that we have a possibility of a different future here and we can do something about this."