NI's education bill promoting mixed-religion schools faces traditional barriers, offers hope to some
Lynelle Fenton can't recall a time she spent in the company of many Catholic people growing up. "My primary school was Protestant, my secondary school was Protestant and teacher training at college was largely Protestant," she said.
But things started to change when Fenton took a position at Braidside Integrated Primary & Nursery School, one of only 65 integrated schools in Northern Ireland. The school lacked many amenities a traditional Catholic or Protestant primary school in the country had. For one, it was a double-wide trailer in the middle of a dug-up plot of land. The kids didn't have uniforms and there were only two classrooms. 
But it taught students of more than one religion, and that was what mattered to Fenton. She didn't want future generations of students to be separated by where they grew up or what religion their families are — she wanted something to change. Now 15 years later, she is still teaching integration and she said she still loves it.
Integrated education is a schooling model in Northern Ireland that intentionally mixes children and staff whose families are Catholic and Protestant or the less common "other" together in one school. Though integrated education isn't new in NI, Fenton said it's a necessary step toward healing a still-divided country.
The first integrated school was created in light of the Troubles, a 30-year sectarian conflict between primarily Protestant Unionists who wanted Northern Ireland to remain within the UK and Catholic Nationalists who wanted a united Ireland once again. More than 3,600 people died during the Troubles, and while the Good Friday Agreement of 1998 ended most of the violence, the fact remains that schools and neighborhoods remain largely one religion or the other. More than a few people who live in Northern Ireland are like Fenton: They can tell you just how long they lived before meeting or making friends with someone of another religion.
The past is still present to even casual observers. The walls of buildings – especially in Belfast and Derry/Londonderry – are covered with still-bright words and images of protest. Throughout the country, the message is clear: The conflict is far from over. And according to Fenton, who also served as the vice president of the Ulster Teachers' Union, education is far from immune to the divide in society.
But in March, the move toward integrated education in Northern Ireland made headlines when the Integrated Education Bill was passed by the Northern Ireland Assembly. The bill, sponsored by Alliance Member Kellie Armstrong, requires the Department for Education in NI to facilitate and support the integration of primary schools. That includes bringing forward action plans and targets to increase the number of integrated schools in the country and consider integrated education when planning new schools.
But the bill will take upward of two to four years to see anything start to change, said Emma Hume, the senior development officer at Northern Ireland Council for Integrated Education.
Hume said the bill is a necessary step toward the country's movement out of the past. She said it has the potential to give teachers and students more freedom to break free from religious ties that still haunt the education system even decades later. The first step to making the bill reality, she said, might be higher education – with those training the teachers. That's also segregated. 
"The thing that we keep coming back to is why are our teachers being trained in different colleges? When one is technically Catholic and one is Protestant?"

Emma Hume, the senior development officer at Northern Ireland Council for Integrated Education
Belfast's education degrees line up between the Catholic-dominant St. Mary's University College and the Protestant-dominant Stranmillis University College. Even today, students must earn a separate Catholic teaching certificate if they wish to teach at a Catholic school. The bill doesn't change that.  
"It's more of a symbol," said Peter Finn, the principal of St. Mary's University College, Belfast.
Finn's role as principal is to facilitate a teaching program at the university that will produce Northern Ireland's next generation of teachers. Growing up just 40 miles southeast of Derry/Londonderry in the town of Armagh — Finn is a born and raised and proudly self-proclaiming Catholic. Throughout his life, he spent all his schooling in Catholic schools and now works at one too.
Though Finn supports the integrated education movement happening in his country, he doesn't see the bill changing much in the future. And he doesn't necessarily see that as an issue either. 
"The whole basis of Catholic schools is choice. In other words, the whole rationale for the existence of Catholic schools in Northern Ireland is it is a function of choice by parents."

Peter Finn, the principal of St. Mary's University College, Belfast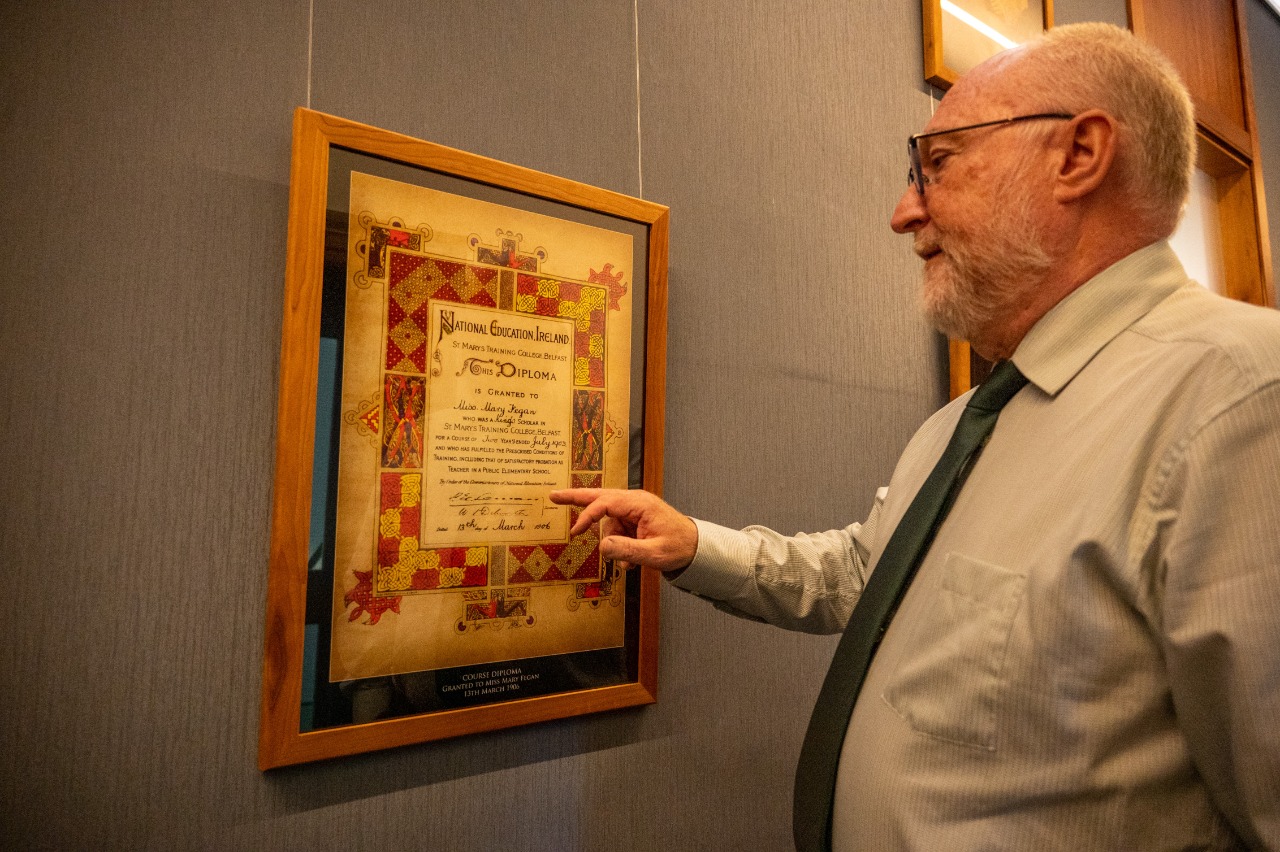 Finn said he thinks that it comes down to parents wanting their children to be educated in schools that reflect their own upbringing, and Jonathan Heggarty, the principal of Stranmillis University College, largely agrees. Heggarty said he doesn't think the bill will change much in the reality of schooling in the country. 
"I don't think anybody has set out to design a separate system for the sake of being separate," he said. "I think a lot of the way most people historically went to a particular school was based on their political situation, not because of a religious situation."
Fenton said regardless of what the bill does or doesn't do, she believes it still acts as a symbol of a movement away from the separation in the past and present that still haunts Northern Ireland. But without the support coming from higher education and down, change will continue to be stuck in limbo.
"We're teaching literacy and numeracy. And those kinds of core subjects don't change," she said. "I suppose it's more the idea that there is a change in the other areas like more kindness and respect. It's the way forward, nobody wants to go back to the past."
In Northern Ireland, 71% of the population believed children should be taught together rather than separated by religion, according to a survey by The LucidTalk in July 2021. Despite that, 93% of children still attend schools that aren't integrated. Instead, most schools educate the traditional sectarian ways, according to data from the NI Department of Education.
Though the bill doesn't push any firm action in the education system, it's still seen as a symbol of growth toward a different and more unified future for the youth of Northern Ireland, Fenton said.
"If we can even sustain our numbers, that's growth," Fenton said. "We are not going away — this movement will be there."