Being part of a larger union has been crucial as gay, lesbian and transgender people in Northern Ireland have fought for their rights.
It took a 1980 decision by the European Court of Human Rights to strike down Northern Ireland's law making homosexual sex a crime and it took a 2020 decision of the British parliament to grant gay couples in the region the right to marry. Both moves were over the objections of local political and religious leaders.
But with the passage of marriage equality, many LGBT activists in Northern Ireland are focusing on expanding equality for transgender people, according to Stephen Donnan-Dalzell, a writer and activist living in Belfast. And with Brexit done and the Northern Ireland's devolved parliament back, their fight won't be an easy one.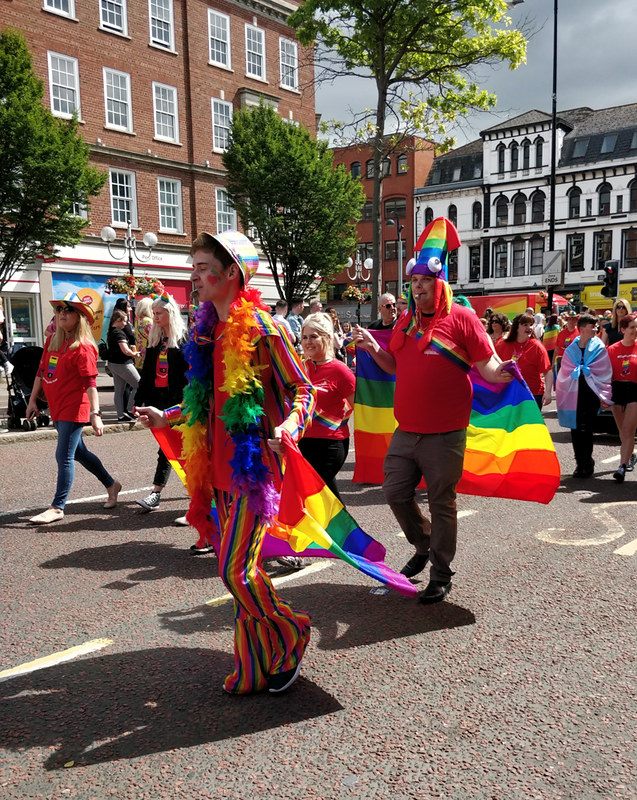 Alexa Moore, a trans woman and director of TransgenderNI, said it's a battle that needs to happen as the situation for people like her is a crisis.
Northern Ireland has only one clinic that offers gender-affirming healthcare. The clinic is in the capital Belfast and people often spend years on a waitlist before they can see a doctor to be prescribed hormones, be referred for surgery or even undergo laser hair removal, Donnan-Dalzell said.
Aisling Twomey, the current policy and advocacy manager with the Rainbow Project, knows those delays well.
Brackenburn is Northern Ireland's only Gender Identity Clinic and serves patients in a one-in, one-out system.
As of February 2021, the estimated wait time to get into the clinic is "up to 47 months" or 3 years and 11 months. This is according to the Gender Construction Kit, a website that provides resources related to gender for those in the U.K.
Before the pandemic and Brexit, many transgender people could easily travel to other European Union countries to access healthcare. When the United Kingdom was still a member of the European Union, Northern Irish citizens could receive medical treatment throughout the EU, and pay for it through the U.K's National Health Service (NHS).
In the post-Brexit U.K, patients must be a resident of the country they are attempting to access care in, such as Scotland, England or Northern Ireland. So, even though England is only 10 miles away, transgender healthcare cannot be accessed simply by taking a ferry.
And so trans people have to wait, often behind more than 200 other people.
One of the biggest reasons for the waitlist, Donnan-Dalzell said, is a lack of funding. According to a Freedom of Information request by Vice, funding for the Brackenburn clinic fell 34% between 2015 and 2020. In 2017, when the Northern Ireland Assembly collapsed, so did Brackenburn's budget.
Donnan-Dalzell said that meant the clinic's waiting list was frozen and referrals stopped. The clinic began seeing patients again late last year.
Add to this development a tremendous surge in patients turning to the clinic now that Europe was no longer an option.
In early 2020, a spokesperson for the Belfast Trust told the Belfast Telegraph, "The GIC, in line with services across the UK, has seen a significant rise in demand from individuals seeking assessment and treatment. This is upwards of 75% from 2014."
This has meant, many transgender people have begun to self-medicate with hormones that can be bought online. Testosterone, frequently taken by transgender men, is a schedule 4 drug in the U.K, meaning it is prescription only. Possession without a prescription is illegal and purchasing online can be dangerous.
But even if they could shorten the wait times, some activists say the clinic itself symbolizes the problem they really face.
Brackenburn Clinic is located inside Knockbracken Healthcare Park, a large mental healthcare complex just outside of Belfast. Gavin Boyd, the former policy and advocacy manager for The Rainbow Project in Northern Ireland, described the healthcare park as large, cold and intimidating to those who are seeking care.
A 2019 report done by researchers at Open University and the Pride Foundation, found the clinic required a patient to be diagnosed with "clinically significant psychosexual/gender identity disorder suitable for intervention" before being referred to Brackenburn.
The term "gender identity disorder" is considered by experts and activists to be outdated. It was eight years ago that the American Psychiatric Association reclassified it as "gender dysphoria," noting that it is not a mental illness on its own and retiring the term "disorder" in an effort to de-stigmatize trans people.
Moore said some of Brackenburn's problems may stem from the fact that the NHS has not formally declared and funded the clinic as a gender identity clinic.
"Trans people just started to be referred there," Boyd said.
The government has made an effort at looking at reforms, Donnan-Dalzell said. They said the Department of Health in Northern Ireland is interested in formalizing the work at Brackenburn, but little progress has been made.
So, for now, those seeking botox or cosmetic surgery have many options in Northern Ireland and all Northern Irish trans people seeking medical help have a single place to turn.
Gwen Newman, a non-binary Northern Irish person, tweeted "[Brackenburn is] desperately underresourced. This is a political failure, not a failure of the healthcare services themselves."