The Orange Order was determined to celebrate. Nevermind it was a year late or that their political faction had just lost the top spot in Northern Ireland's government for the first time. Nevermind that debate over Brexit has left those who believe Northern Ireland should remain firmly in the United Kingdom deeply divided. They would march.
And so, in contrast to a grey Northern Irish urban architecture, Belfast was saturated with orange on May 28th, 2022.
The Orange Order marched from Stormont into the heart of Belfast to celebrate the centenary of Northern Ireland. More than 100,000 people participated in the delayed celebration, waving countless union jacks in a display of Northern Irish pride.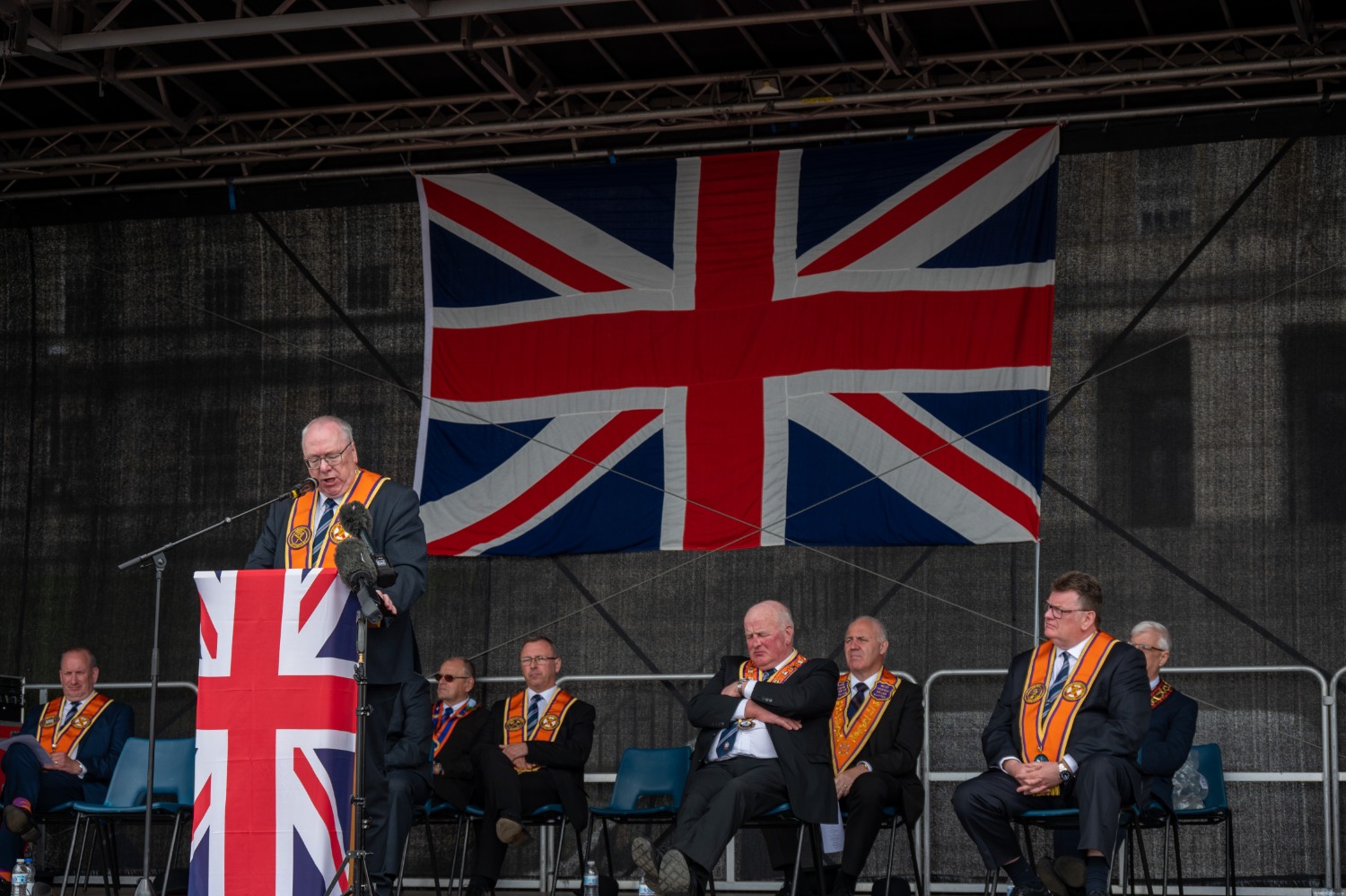 But behind the celebration, the region's connection to the United Kingdom appears at its most tenuous in that 100 years.
Unionism – a tradition loyal to the British union and historically linked to the Protestant faith – has dominated Northern Ireland from its inception. And with a system of government built specifically to protect that connection to the UK, it would seem logical that the group felt the kind of confidence on display at the centenary march.
But experts caution that tradition has always felt under threat.
"There is a long-standing disposition of unionism which is always insecure, always worried about treachery, and [it] has a siege mentality," said Neil Matthews, an expert on Northern Irish politics and senior lecturer at the University of Bristol in England.
If Northern Ireland were to be combined with the Republic to the south, unionsts would be outnumbered. They are a cluster of orange dots – mostly in the northeastern section of the island – surrounded by green. And that reality, or the fear of it, has shaped much of what unionism is.
Then on May 5th, Sinn Fein, the more hardline pro-Irish party long-associated with the Irish Republican Army, became the first nationalist party in history to take the largest share of seats in a Northern Ireland Assembly election, beating out the top unionist contender, the Democratic Unionist Party.
For many unionists, it was the latest insult they feel they have faced.
But this election was not that. Sinn Fein did not gain any seats in May. Rather, its victory came as unionist-inclined voters divided their votes among four parties: a moderate Ulster Unionist Party, the more conservative DUP, the hardline Traditional Unionist Voice, as well as the unaligned Alliance party.
The road ahead may be murkiest for the largest party, the DUP. It was a party born of protest. When the Good Friday Agreement of 1998 marked an end to the Troubles, the DUP opposed it. That hardline approach helped the party overtake its more moderate rival UUP in 2004. Then, the DUP struck a deal with Sinn Fein in 2007, entering into a power-sharing government with the nationalists.
That pragmatism has always seemed to spell trouble for the DUP. But even in the wake of the 2022 election losses, the party is quick to look beyond its traditional strength of saying "no."
"Opposing Sinn Fein is not unionism," said Clive McFarland, press officer for the DUP.
Originally from rural Omagh, McFarland unexpectedly fell into his role at the DUP after majoring in agriculture at Queens University in Belfast. In Stormont's basement cafeteria, he discussed many of the DUP's and broader unionism's shortcomings over a breakfast scone with jam.
"As parties, we shouldn't just be running candidates as vanity exercises or to say you're running X number," McFarland said. "[If] you're not going to get those people elected and you may have just damaged overall unionism."
But McFarland sees larger issues within unionism than just scattered votes.
"There's an issue of political unionism as a whole to not fight yesterday's battles today," McFarland said. "We instead need to start fighting the issues of today and promote a more positive version of unionism."
McFarland believes those people shouldn't be sent to sit in the corner, but in these times of relative peace, unionism needs to look forward.
"Unionism needs to be careful that we don't become a historical re-enactment society," McFarland said.
A Historical Reenactment Society
In a heavily Protestant East Belfast neighborhood, the Museum of Orange Heritage appears to be just that. Filled with artifacts commemorating King William of Orange and his 1690 victory over the Catholic King James I, the museum reflects the reverence to the English crown, including a room dedicated to memorabilia celebrating Queen Elizabeth's Platinum Jubilee.
David Scott, outreach and services manager at the Grand Orange Lodge of Ireland, said he feels that appreciation through the museum's collection of items from King William, like a pair of gloves.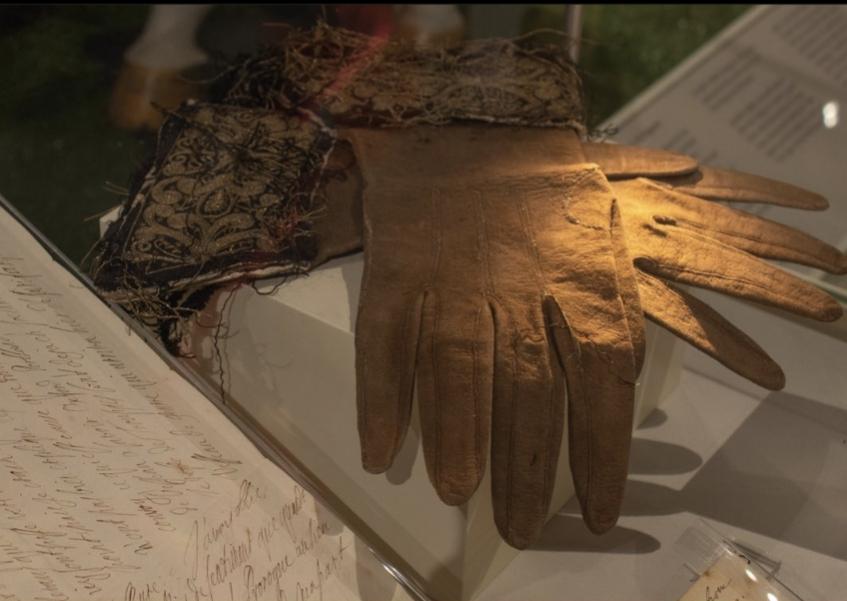 "I think that's quite a personal connection to the man himself. He's deemed to be the hero of our culture and tradition, and to think that those were worn by the man himself …" Scott said recently during a private tour of the public museum.
The Orange Order is a fraternal organization of Protestants who are loyal to the English monarch, but not necessarily the British government. Scott says the institution is "not anti-Catholic, but pro-Protestant." Yet the Order has been criticized for stoking violence by deliberately marching through Catholic neighborhoods.
Although he admits the order is not as influential as it once was, Scott describes its influence as a "big orange umbrella."
"We have much more influence on the Protestant community than the Unionist political parties combined, and we can mobilize support," Scott said. "I think members identify more so with us than they do with political life, because they see us as the preservers, the promoters, the sustainers and the custodians of protestant unionism."
Brexit and Unionist Buyer's Remorse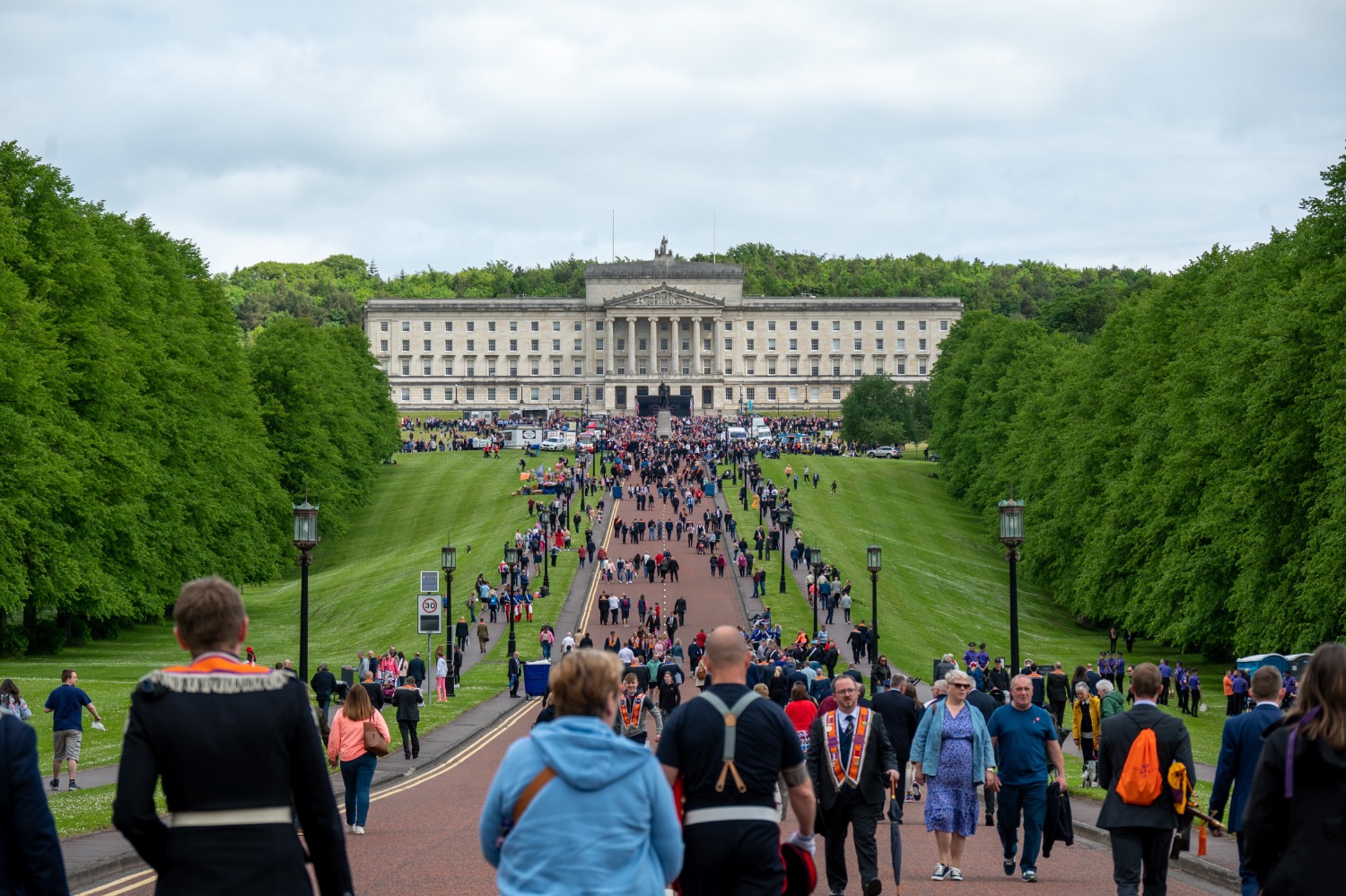 Back at Stormont, McFarland is recalling how former British Prime Minister Boris Johnson came to the region and stood, "ironically," on a DUP platform and said that there would only be a border between Northern Ireland and the rest of the UK "over his dead body."
"There is disillusionment, to a degree, with our UK government. In 2019, they ran explicitly on getting Brexit done. But from our point of view, Brexit is not done," McFarland said.
The changes ushered in by Brexit were more complicated in Northern Ireland than in mainland England, because of fear that a new border would reignite old tensions.
The Northern Ireland Protocol was created with intent to protect the EU single market without imposing a so-called hard border on the island. But unionists believe the protocol undermines the region's place within the United Kingdom, creating a de facto border in the Irish Sea.
Economic concerns are cited. But what Northern Irish political commentator Sarah Creighton called "the festering wound at the heart of Stormont," is not economic: It is an act of betrayal by the UK.
"Unionists feel they have been lied to," said McFarland.
The Many Shades of Orange
Lauren Kerr sat in a bustling industrial Belfast coffee shop. This was her first day back to work since ending her campaign for a seat in East Belfast. Although the 30-year-old UUP candidate did not get elected, Kerr was glad she was on the ballot as a moderate unionist. As a working-class woman, and as someone who is LGBT, her candidacy marked a milestone in party progressivism. When the news of her elimination in the election was posted, she wrote to Twitter that she enjoyed the "extremely goth vibe" of the black-and-white announcement graphic.
The DUP's version of unionism is not universal, she said. She noted there is also a more tolerant and progressive version of unionism. But despite its struggles, Kerr said it's important to understand unionism is diverse.
She sees the union as a practical asset in terms of public services, cost of living, and quality of life for the people of Northern Ireland. This, she says, is what unionists must emphasize moving forward.
McFarland agreed with Kerr that unionism is not a political party. The only qualifier that makes one a unionist – according to McFarland – is that one would vote to remain in the UK rather than unite with the Republic of Ireland if a referendum was put up.
And Kerr added that trying to make unionism a one-party system may fail it in the end.
And now, with Sinn Fein poised to take the lead at a Northern Ireland Assembly, talk of a referendum about unifying Northern Ireland and the Republic of Ireland has become a focus of most unionists.
"There is a unionist anxiety out there," said Kerr. "The status quo has been upset by the protocol and we're now facing a Sinn Fein first minister, which is a new phenomenon for unionism to grapple with."
Back at the Museum of Orange Heritage, David Scott looks to history for his concerns about the future of unionism. "My personal fear is that if they do go through with a border poll and it is successful. How will we be treated?" asked Scott. "Do we expect to be treated as our ancestors were treated?"
But Matthews, from the University of Bristol, points out that fear can be a powerful political motivator in the UK, as it has been elsewhere.
"What is driving up a lot of [former President Donald] Trump voters in the States is a sense that, while they are a majority, while they are white Americans, their position is under threat. This same notion motivates unionists in Northern Ireland. Whether it is the protocol that weakens the link between us and them or it is the advances being made by Sinn Fein. Or it's these cries for a referendum on Northern Ireland's constitutional status. All of these things add up and start to poke the finger into the very insecure mind of the unionist."