It's Friday night and a modest crowd begins to trickle into the Black Box, a venue in the Cathedral Quarter of central Belfast.
Candice Cathers, a 28-year-old known as Girl For Sale, sings on stage to an audience where 60-year-olds greet 20-year-olds like old friends. Cathers is atmospheric cool, her lyrics cathartically honest and reminiscent of almost every twenty-something's experience of heartbreak, self-doubt and longing. She's not new to writing songs, but released her first EP in 2021.
In the crowd, there's a feeling of camaraderie among strangers. If they don't know someone playing on stage they probably know their manager, the bartender, or their ride home.
It's a homecoming of sorts: Chordblossom's 10th anniversary show. The online publication has been celebrating Northern Ireland's music scene since 2012 and now showcases some of the region's best talent, including singer-songwriter Jealous of the Birds, one of NPR Music's favorite SXSW discoveries; and ROE, a Derry native who's toured alongside Snow Patrol and was the winner of the Northern Ireland Music Prize for Best Emerging Artist in 2018.
More than 20 years ago, the Good Friday Agreement ushered the region into a state of relative peace after decades of violence between predominantly Catholic Irish Republicans, who supported unification with the rest of Irealnd, and predominantly Protestant Loyalists who wished for Northern Ireland to remain part of the United Kingdom. At the height of the conflict, a public event such as this might have been a security threat.
Now, the number of gigs within Belfast on any given night can be overwhelming.
Music has always been a force in Northern Ireland and continues to give voice to people frustrated by the status quo in a region still known for religious and cultural division and its conservative views on issues like LGBTQ and women's rights.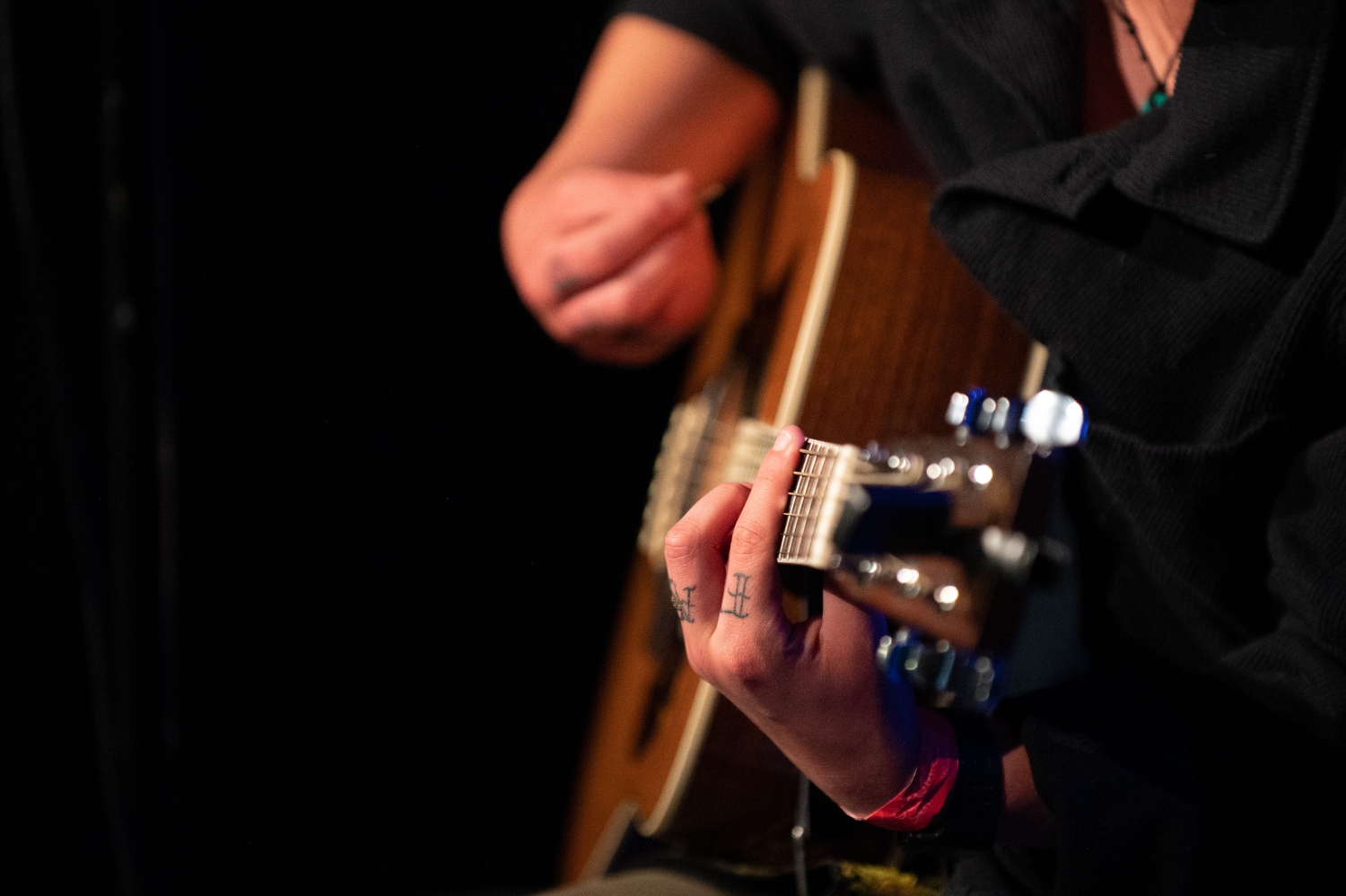 Back in 1978, Stiff Little Fingers asked a generation of defiant Northern Irish teenagers, "Is this the kind of place you wanna live, is this where you wanna be, is this the only life we're gonna have?"
Their anti-establishment punk song "Alternative Ulster" was quickly adopted as a local anthem, expressing the restlessness of the youth at the time. Government instability and social pressures stewed alongside threats of actual violence. These were the factors that first forged the punk scene in Northern Ireland. They went on to charge their young audiences: "Grab it and change it – it's yours! Get an alternative Ulster."
We are very much protest punks, we know we can't change much, but what we can do and what I think we try and do best is try and use information and use education and try and get things changed, call things out and ask why.

Ciara King of Problem Patterns
Among the crowd at Black Box is 25-year-old Benjamin Magee, who's doubling as both a live editor for Chordblossom and as director of New Champion Management for the night.   
At 16, Magee wasn't so much worried about building a career in the music industry as he was about sneaking into bars. Growing up as a teenager in Belfast, Magee got his start in music working as a roadie for his friends' band playing around Northern Ireland.
During his time at university, he acquired a passion for the local scene and began writing as a journalist about bands playing around Belfast. After graduation, he interned for local music legend Lydon Stephens, a live-music promoter and founder of Quiet Arch Records and Champion Sound Music, bedrocks in Belfast music.
In December 2019, seven months into Magee's employment and a promotion to artistic management within Champion Sound Music, Stephens stepped down from his company with plans to shut down the business in order to focus on his health; he'd been diagnosed with a fatal disease. Magee, looking down the barrel of unemployment, offered to buy the management company off of him. Stephens sold it to the 21-year-old, who had never run a business before, for the steep price of £1. Stephens died in January 2020.
"I never ran a company before. I never wanted to. I still don't," said Magee. "I'm not some protege or visionary or anything like that. I just work hard. Belfast is a place where for every 'no' you get, you can also get a 'yes' if you're looking in the right places. That definitely applies to musicians as well."
Magee's position as a young executive in the music industry is just one piece of the fabric that makes up Belfast's modern scene. It's the music of a generation that did not live through the violence of the Troubles, yet lives in a country full of the scars.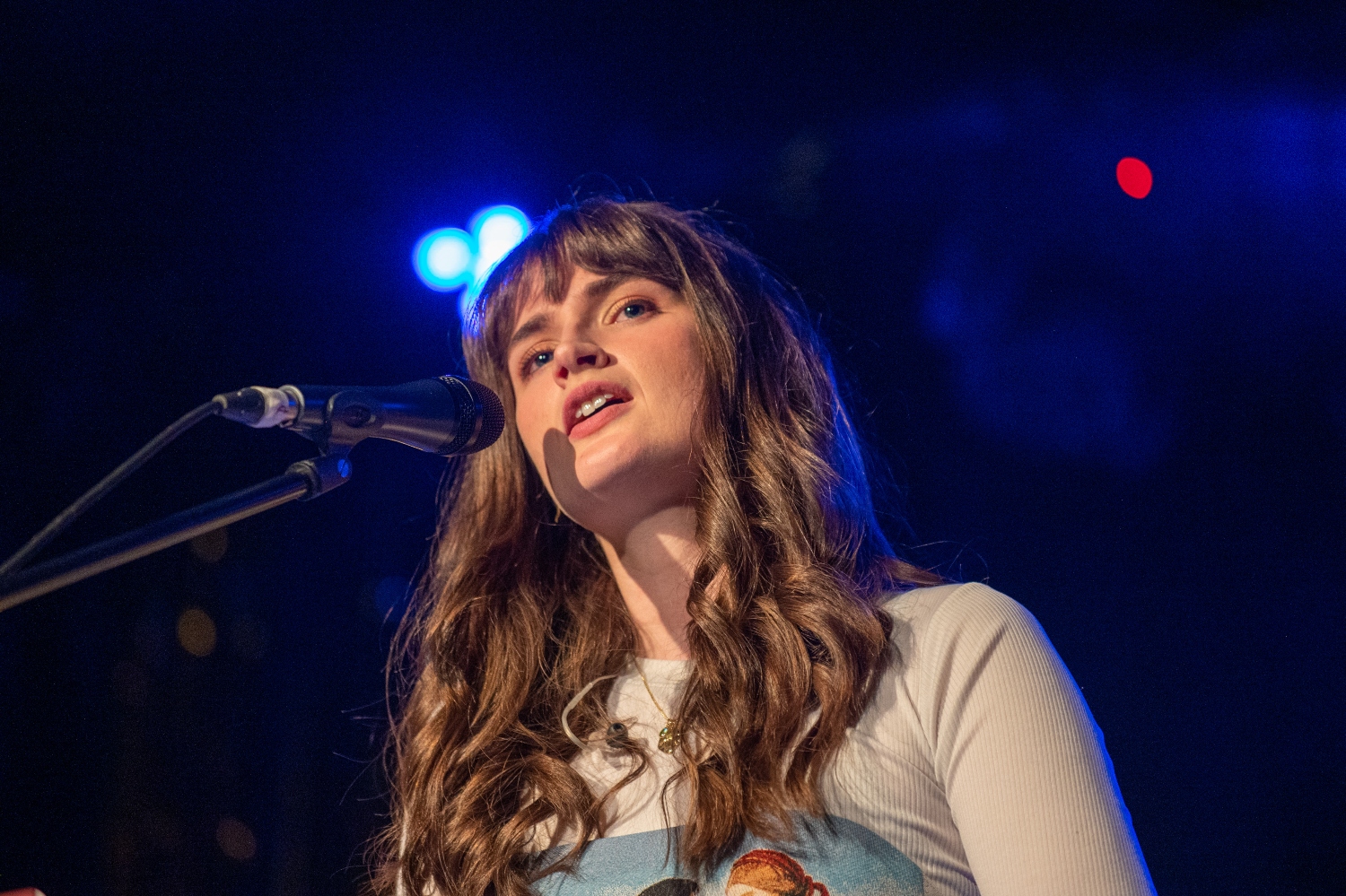 Many within the community accuse the government of doing little to support musicians and other artists. But that lack of support has sparked a DIY music culture that puts musicians in charge.
Self-starters like Magee forge their own careers, then lend a hand to help pull up others struggling to break through. They are free to challenge Northern Irish society and culture as it struggles with continued brain drain, economic instability, political tension and mental health issues as well as facing off against traditional socially conservative norms regarding feminism, LGTBQ+ and minority rights.
The Oh Yeah Music Centre has tried to carve out a home for all those who seek to use music to change the status quo and cultivate local musical talent.
The Centre was founded in 2007 by music journalist and former CEO, Stuart Bailie alongside Gary Lightbody of Snow Patrol. Since then, it has grown into a major resource for local artists, housing 12 private music businesses within its offices as well as offering youth, education and talent development programs.
Charlotte Dryden, current CEO of the Centre, has been a force behind new initiatives including directing the Women's Work Festival with Charlene Hegarty, talent development and project manager at Oh Yeah. When the music community felt that the local scene lacked women, Dryden helped create programming to support those looking to break through the male-dominated space.
"It just felt like we needed to be more visible and to promote women and raise awareness of women in music, and maybe inspire confidence in women, as well, to step up and be a bit more confident in terms of songwriting, touring and getting into the industry," said Dryden.
Dryden estimated that when the festival began, females made up 15% of participants at Oh Yeah. The number now hovers near 50%.
Problem Patterns is just one potential breakthrough band performing at Women's Work this year. The band describes itself as 50% gay and 50% rage.
Unapologetically feminist and queer, the group is fearless in tackling issues deemed taboo by Northern Irish standards.
Their music has not just influenced and pushed their local scene to be more inclusive, but it reflects the growing desire of younger generations to push back against policies they say have damaged women's access to healthcare, as well as the right to same sex marriage.
"Our government still isn't taking seats, or you know electing someone to be in charge and the only thing people around here can try is to change it themselves," said bassist for the band Ciara King. "Especially in music, sometimes you have to find another way around making people safe and making sure these things are addressed. We are very much protest punks, we know we can't change much, but what we can do and what I think we try and do best is try and use information and use education and try and get things changed, call things out and ask why. I think that's the power we have in the music scene."
The Belfast-based band has infiltrated the boys' club that has long-dominated both the Northern Irish punk and music scenes with fervent opinions about both their industry and their country. Their lyrics draw on the same antagonistic and defiant attitudes of the classic punk bands coming out of Belfast in the '70s. But now they target discrimination against the LGTBQ+ community and women. Their newest single Y.A.W., an acronym for "yes all women,"is a play on "not all men," a common defense used against arguments to rationalize and downplay the prevalence of sexual assault and rape in society.
The band formed out of outrage after a high-profile rape case that involved multiple Ulster rugby players in 2018. It shocked eventual bandmates King, Beverley Boal, Bethany Crook, as well as Alanah Smith, who was born in England and lived in Canada before moving to Northern Ireland a few years ago.
Since its formation, the band has been building a discography of songs that shows clear influences of the original feminist riot grrl punk band Bikini Kill. Problem Patterns planned on opening for that breakout band in Glasgow this June before the show got canceled due to Covid-19.
"Punk is inherently linked into social justice," King said. "Punks back in the day didn't feel represented by what their government was doing so they took matters into their own hands. We are definitely pacifist punks but our way of taking matters into our own hands is through our voices and through making the small social changes we can make within our scene and our music."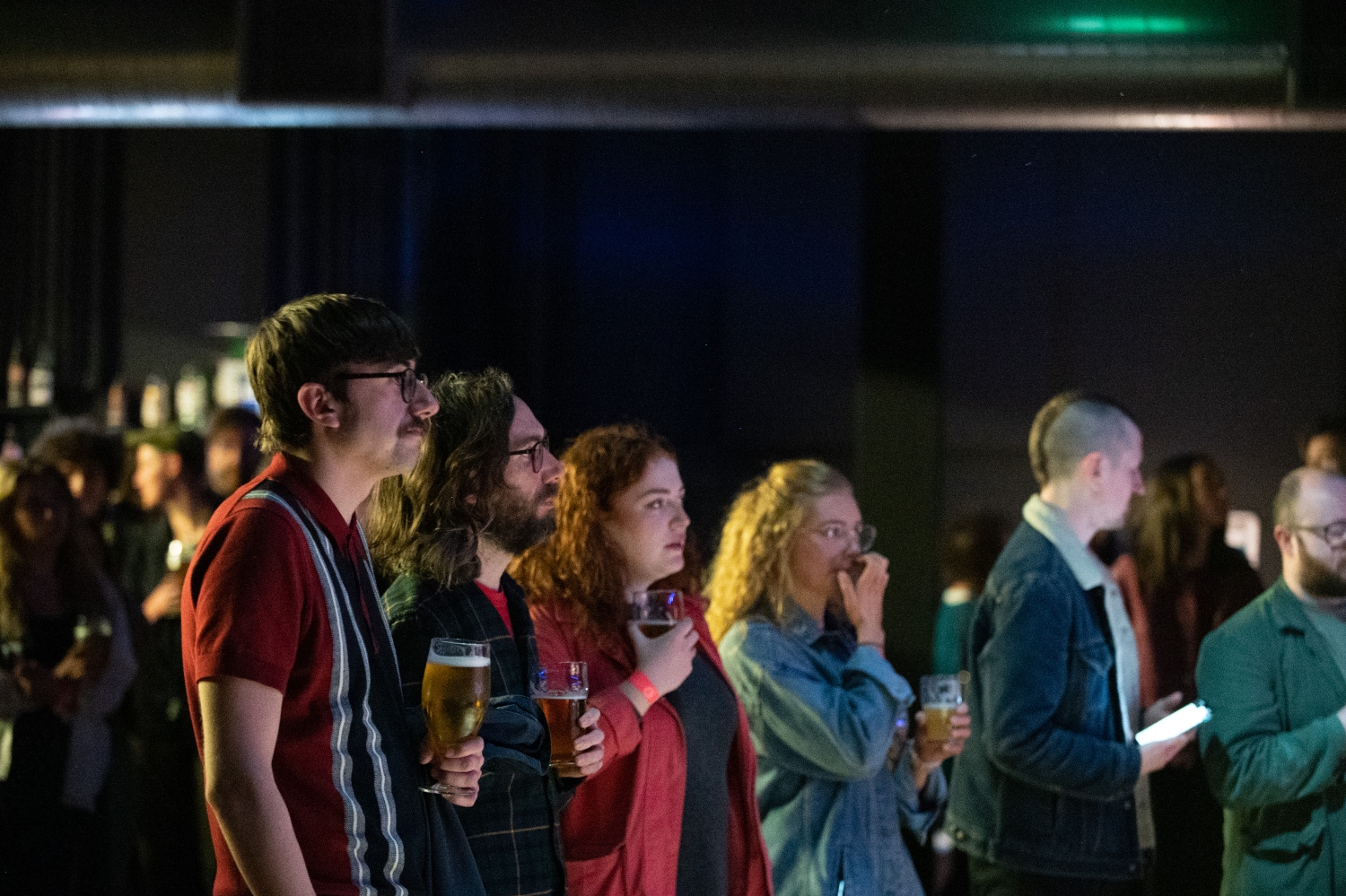 Stuart Bailie believes that the current development of punk coincides with international social movements like Me Too, Black Lives Matter, as well as local politics a around marriage equality and female health and abortion rights. Using punk as a vehicle for political criticism is acting upon a long historic tradition formed by bands during the Troubles.
"I think our newer punk bands know about the Undertones and Stiff Little Fingers and know about Good Vibrations records. But they are possibly better about and more socially aware, more educated about social dynamics and the politics of change," said Bailie. "I think they understand the punk history of Northern Ireland, but they are absolutely writing a new chapter which is exciting."
As for Magee, he hopes to continue promoting his clients the best he can, while also building a culture that allows anyone in Northern Ireland interested in breaking into the industry the ability to do so.
"We want to change the culture and the fabric of what people value in Northern Ireland. We should value our local songwriters, we should value our local DJs, our local clubs — that is the bedrock of a successful and happy culture. It's, 'Are we looking out for the little guys? Are we supporting the little guys?'"